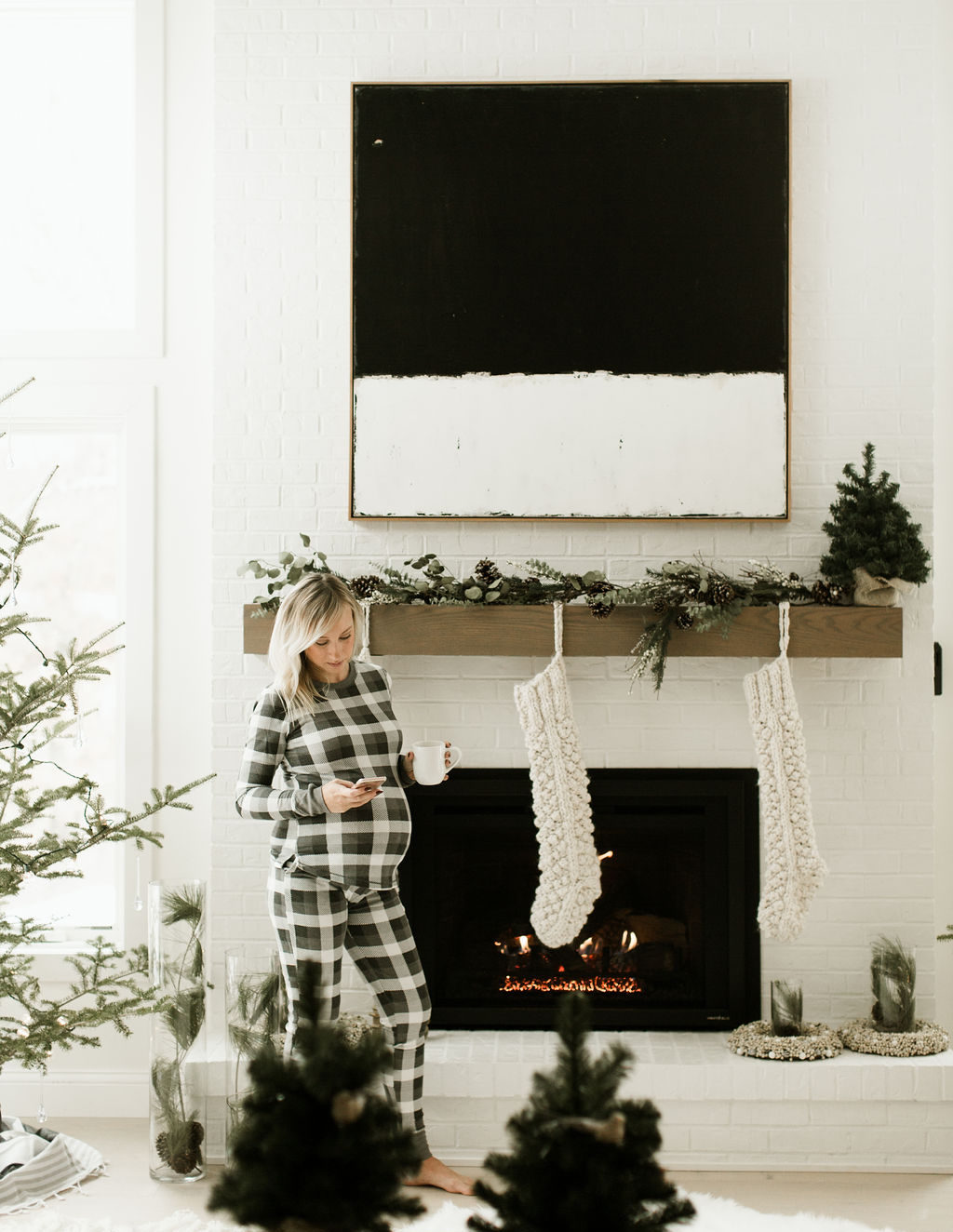 It's December, 5 days until Christmas, and it seems fitting that I am sitting next to the fireplace in my North oaks, MN home enjoying my Christmas lights and the soft glow of the flames while writing this update on our living room remodel. The project is complete. As well as the decor (which had a major push to finish because of the photoshoot deadline with our partners on the project, Heat n Glo.) But I am thankful for that push because we can now enjoy this room for the holidays.
Today is one of my favorites. When we get to share the before & after images of a recently completed space, it reaffirms why I do what I do. And nothing does a project more justice than a before/after! I'm tickled pink with the finished product of this space!
Along time coming, I had my eye on this house for a full year. The entire time we were renovating a different home in North Oaks, I was watching this one. I would spend time on my laptop doing 3d walk-thrus almost every night, looking at the potential…especially in the 2-story living room. I could imagine my family living there. The outdated colors, old carpet, and tiny fireplace were not doing this space any favors but the bones..the main features of the space, the ones that you can't change…were amazing. High ceilings, tall south facing windows that brought in so much natural light and a stairway going up to the second level with a cat-walk just like I grew up with. Some of my favorite memories were spent on the cat-walk in my parents house, in the middle of the night with my brothers overlooking the Christmas tree in the living room and the presents Santa delivered. Barely being able to wait until morning to go down and unwrap our gifts.
Soooo a year later we bought it.
We dove into another project. I was about 2 months pregnant and determined to make the main living spaces beautiful before our baby arrived. That meant the master suite, living room, kitchen and upper level all had to be remodeled in 7 months. I gathered materials and design plans and started ordering, Dan started demo!
For the living room piece of the project, we really only needed a cosmetic makeover. The layout of the room was great so there were no walls to be removed or major electrical to re-wire. Aside from expanding an opening into the kitchen the room was going to be a piece of cake! Now, normally I think that about all of our projects…this will be eeeeasy!… and then there are usually set-backs. This time, there were none. A big part of that was the crew at Fireside Hearth & Home who installed our new Heat n Glo gas insert. This was a part of the room that really bugged me, the fireplace was wayyy too small and if Dan would have taken on that project, the one day install we experienced with Fireside would have turned into a 2 week endeavor! For real, this project took one day and then a return to show me how to work it and set up the logs inside. I was so impressed by the ease of install and the little mess that was made!
To give you guys alittle history on why we chose a gas insert. This home has 2 fireplaces and they were both wood burning at one time. Chimneys deteriorate and require alot of upkeep because of the wood & soot so many people have converted to gas and we are on that same train. The ease of flipping a switch is so appealing in our busy lives! The existing fireplace in our main level living room looked out of scale on the tall brick wall. Our options for a gas insert allowed us to choose a larger one that filled the space much better.  A simple coat of paint on the brick and a new mantel was all it took to finish off this major focal point. The install was so smooth that I didn't even have to touch up my paint job after they cut through the brick and made the fireplace opening larger! We had multiple style options and colors to choose from but we ultimately went with the supreme-I35 with black finish. OK! Here you go, the before & afters!
"Before"

"After"
My fav parts about this insert:
ease of install: they were in and out, clean up included. It was a breeze for us as homeowners!
protective safety screen: this prevents skin from coming into contact with the hot glass. While it still gets hot, a childs hands will be held away from the glass if touched (it is set away from the glass making it safer that a traditional gas fireplace with only glass between the fire and your hands). Only use them with a protective screen! Fireplace Safety
visibility: the screen and glass are so clear it gives the look of an open flame
size: it is larger than the old wood burning opening and there are other sizes to choose from
authentic look: the shimmer of the coals and realistic look of the logs
average cost to operate: only $.38 cents per hour!
Heat n Glo's "intellifire" ignition system: pilot light only comes on when you click the button to start the fire eliminating the constant pilot light that can save up to $10/month in energy costs
light feature: this is my favorite part that I didnt know I would enjoy so much! When I don't want to have the actual fire going, but want the ambience I can turn on the light feature that gives the look of glowing embers but no heat or gas output! Loooove this for during the day or warm nights when I dont need actual flames!
You can see from the photos that some other key things were done to drastically change this room. From the custom wood beams to the giant iron chandelier this room looks completely different! Adding the ceiling features gave the illusion of the ceiling being brought down to make the room feel more cozy and not so cavernous. The light wood floors and white on white color scheme also brightened the space from the previous maroon and peanut butter wall colors!
We have more rooms to share but final staging and finishes are still being done so stay tuned for more of our home transformation!

For more information on gas fireplaces visit www.Heatnglo.com
Photography: Laura Rae Photography and Steve Herder Photography. Lighting: Hudson Valley Lighting. Flooring: Urban Floor